Welcome to Citronelle Academies
At Citronelle, our goal is to provide all students with a meaningful education that prepares them for a successful future. Academies are focused fields of study within our school, and these academies include pathways of courses that are designed to prepare students for college and career options.
Just as a large university is organized into specialized colleges that include focused majors, our high school is organized into specialized academies that contain focused pathways. The academies and pathways ensure students have a focused schedule of courses specified to prepare them for future career goals.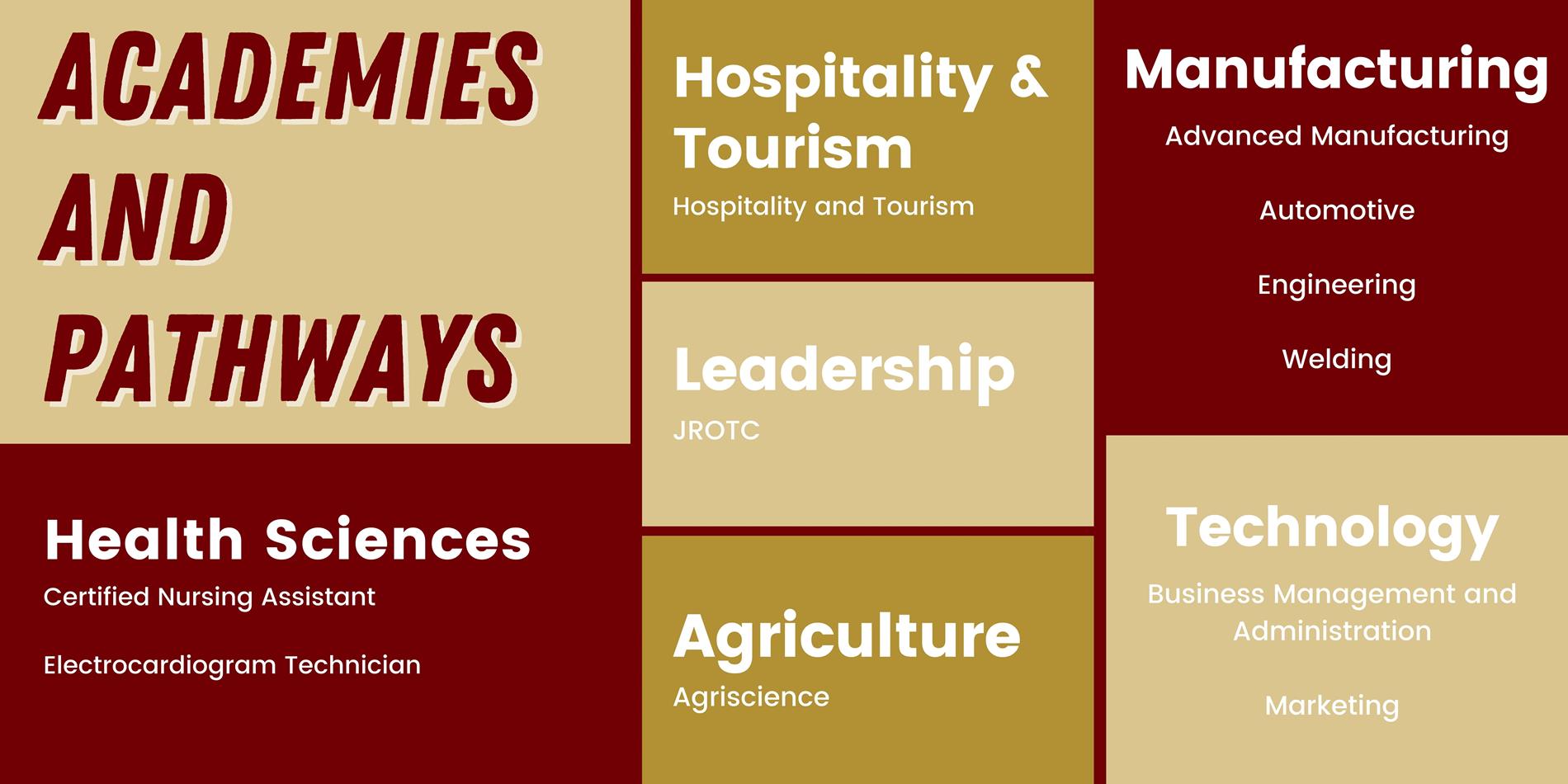 What are the Citronelle Academies?
Citronelle has six academies that include eleven pathways. The six academies are Agriculture, Health Sciences, Hospitality and Tourism, Leadership, Manufacturing, and Technology. These academies include pathways and courses that prepare students for college and career opportunities.
Our Signature Academy is Manufacturing. Courses in the Manufacturing Academy prepare students with the knowledge and skills necessary to obtain nationally recognized certifications, which lead to quality career opportunities in the manufacturing industry. There are four pathways within the Manufacturing Academy: Advanced Manufacturing, Automotive, Engineering (Project Lead the Way), and Welding.
Click the links below to learn more about each Academy:
What Is The Academy Process?
During 9th grade, students learn about the academies and pathways offered at Citronelle and complete the Career Preparedness course to help set general career goals. At the end of their freshman year, students proclaim their pathway, which is similar to declaring a major in college.
Then, throughout the remainder of high school, they take a sequence of at least three courses to complete the pathway. Courses are scheduled so that students have at least one pathway course per year during grades 10-12. Depending on schedule requirements and availability, students may pursue more than one pathway.
Many students who successfully complete a pathway have the opportunity to earn certifications through nationally recognized organizations. This course selection model ensures students have a focused schedule that will prepare them for future career goals.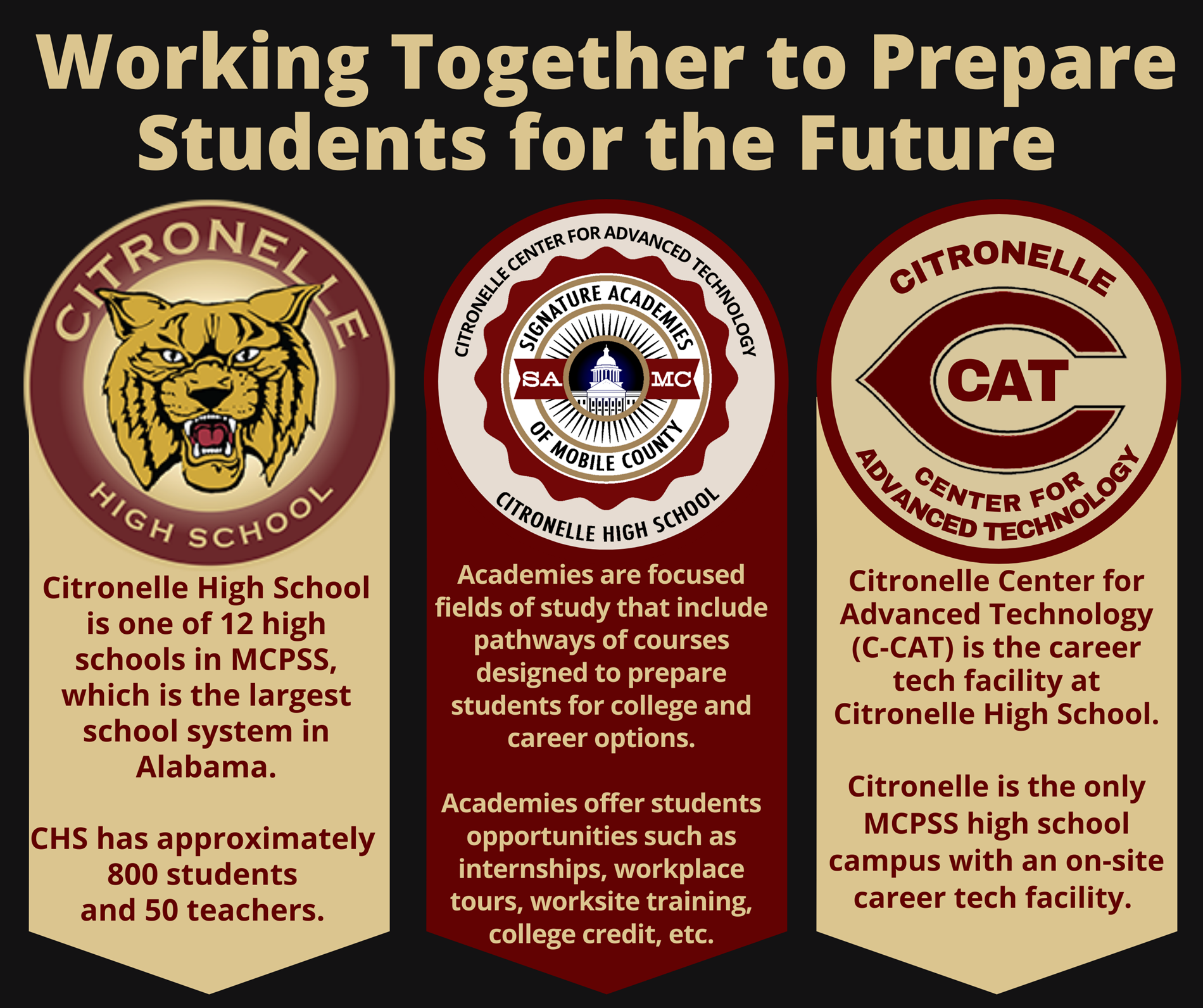 What is the difference between Citronelle High School, Citronelle Academies, and Citronelle Center for Advanced Technology?
Citronelle High School is the school as a whole. It includes nearly 800 students and 50 faculty members. While Citronelle High School encompasses all courses, departments, and students, the Academies are smaller learning communities in the high school. The Academies Program ensures students are receiving organized, focused, and relevant course.
The Citronelle Center for Advanced Technology (C-CAT) is the on-site career technical education facility at Citronelle High School. Eleven of the 50 high school faculty members teach career technical courses in the C-CAT facility, which allows them to not only teach in a classroom setting but also conduct hands-on projects in their workshops and labs. C-CAT is the only on-campus career tech facility that caters to students from only one high school, and the CHS students are the only students in the district who are not required to take transportation to another career tech campus for those courses.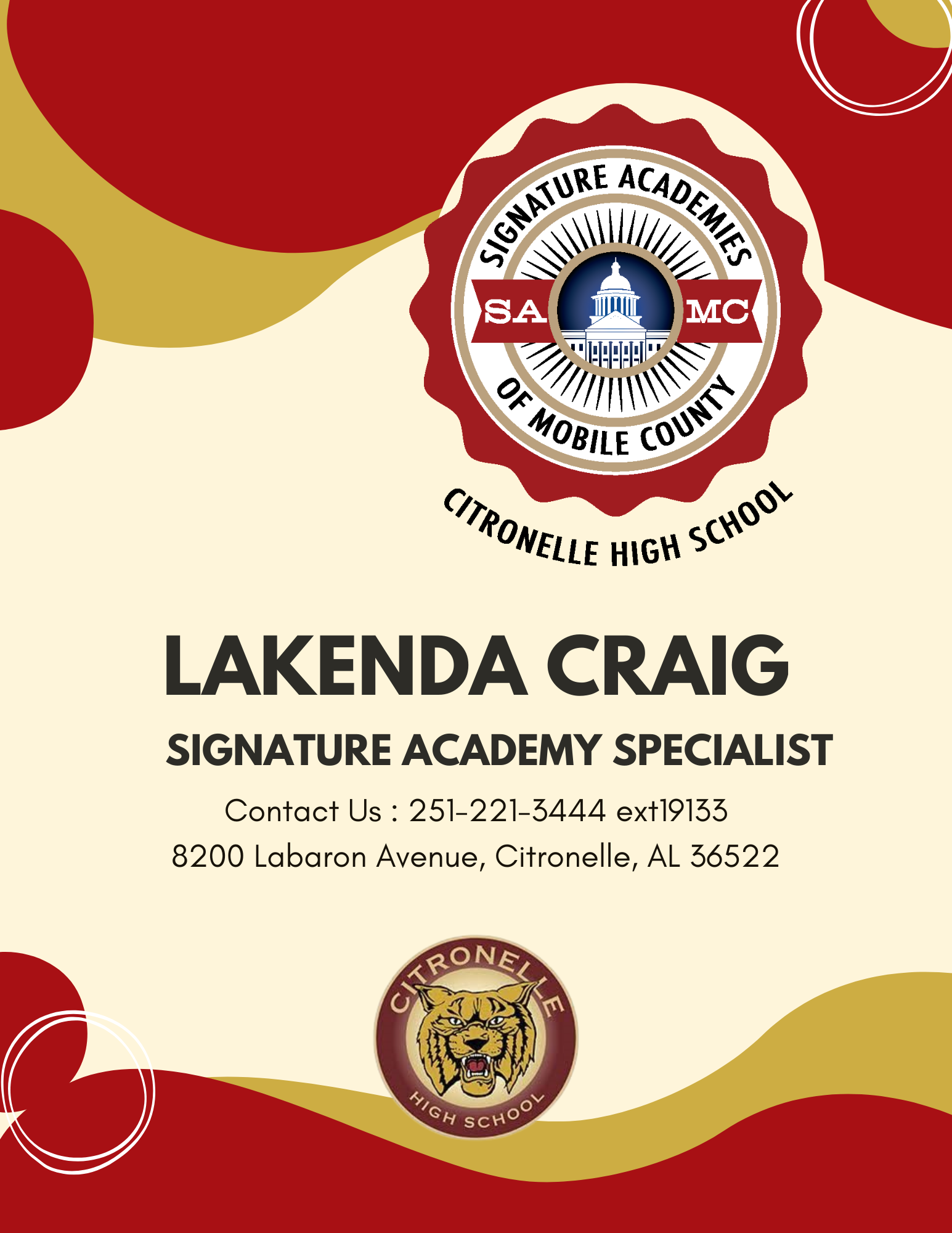 Contact the Academy Specialist